Graphing
It is important for students to be able to access their data in order to interpret and extrapolate data. Have materials available for students to make their own tactile or otherwise accessible graphs whenever possible.
Use tactile graph paper available in .5, .75 and 1 inch squares (available from APH)
Allow students to use push pins or tactile stickers to mark data points
Connect data points with tactile tape, string, puff paint
Use prepared Nemeth stickers and tactile stickers (available from APH) or brailler to create axis labels and title
Touch Grids

(for more information, contact

Jeff Killebrew

-- New Mexico School for the Blind and Visually Impaired)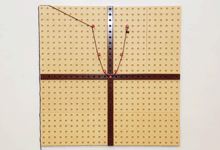 Touch Grids is an instructional tool developed within the physics classes at the New Mexico School for the Blind and Visually Impaired. Touch Grids facilitate greater mathematic and graphical literacy through the conceptualization of many graphical processes that utilize quantitative data by using a series of connectable and interchangeable grid panels, axes, and pegs. Possessing universal design features, this educational tool allows students with visual impairments the ability to bypass their visual deficiencies and gain greater independence, success, and ultimately access to advanced study or employment in STEM fields (acronym for Science, Technology, Engineering and Mathematics).
Talking Labquest for Collecting, Graphing and Interpreting Data (high school)
The following description is from the Independence Science website:
Students who are visually impaired can now independently access high school and college level science lab experiments with the Talking LabQuest.
The Vernier Original LabQuest has been adapted by Independence Science with Sci-Voice Access Software to improve access to science experiments for students who are visually impaired. This mainstream device is consistently used by sighted peers and is a one-of-a-kind tool for collecting/analyzing scientific data.
Text-to-speech has been added for accessible data collection, navigation through the menu, data table, periodic table and statistical analysis features.
Recommended for use in high school or college curriculum for studying chemistry, biology, physics, earth science and any other lab course. Sensors are required for data collection.
Several Talking LabQuests and a number of sensors are available on loan from the IESBVI science collection. Contact your TVI.
Sci-Voice Software:
Speaks and records data measurements in real time.
Periodic table with 20 spoken attributes for each element.
On board statistical analysis of data sets.
Export to Logger Pro with Sci-Voice app for further analysis and tactile printing.
LabQuest Hardware:
70+ sensors compatible, up to 4 can run simultaneously.
Durable design and water-resistant, built for years of use.
Battery allows for over 4 hours of continuous usage.