Astronomy ideas for accessibility
Solar system and the Planets
Winter/Summer Sun Position Model
(for more information, contact Jeff Killebrew -- New Mexico School for the Blind and Visually Impaired)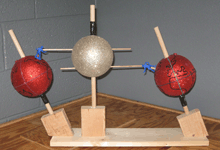 O&Ms often use the position of the sun as an integral part of cardinal directions. The sun rises in the east, is overhead around noon and sets in the west. Unless it's winter at American/European latitudes.…then the sun rises kind of in the southeast, is off to the south around noon and sets in the southwest. The Winter/Summer Sun Position Model is a quick and easy visual and tactual way of showing students why the sun appears to be in different places in the winter and summer. As an added bonus, science teachers can use it in conjunction with other solar models and social studies teachers may find it helpful for explaining latitude and longitude.
Light and Shadows
You can look at how our hands could block the path of light to a surface, and define a region of darkness. Have him hold up his hand in front of a light so the shadow appears on a draftsman board and trace that shadow. Describe the area of the shadow as the area the light couldn't get to because the hand blocked it from getting through. You can do the same sort of thing with a spray bottle of cold water. If you spray towards a hand the hand blocks the spray of the water in a certain area (i.e. the area where the shadow would be). The student can feel that it is wet where the hand wasn't blocking it, but dry where the hand was blocking it. You can also talk about going in the shadow of a building or tree and how it feels cooler in those areas because they are blocking out the sun and therefore the heat in that area.

Use a light detector app such as "Light Sensor" ($1.99) that uses audio tone to indicate levels of light as the device passes through light and shadow.